........ SMOOTH ON ALL SIX
_______________________________________________________________________________________________
Winter 2010-2011
The list of the maintenance and upgrades are the follwoing:
Fit Kenlowe electric fan

Change time cover seal

Fit new radio with USB and iPhone connection

Change wheel bearing RH-side

Swopped to correct Vitesse wheel as spare wheel

Made cycle- and ski-rack mounted to the luggage boot rack
Here is the Vitessse in my new garage in very good company with a Volvo P1800 and a newer Jaguar :-).
Fit kenlowe electric fan
The electric fan was mounted at the rear of the radiator. Before assembling I had to remove the original fan blades (item 15 below) as there is absolutely no space for using both. I further decided to change the timing cover gasket and the timing cover oilseals – item 41 and 34 in the below drawing. When working with this I removed the radiator to get more space – it is pretty tight "down there". The radiator hence got a good clean inside out by flushing tap water through it. I'm not satisfied with – probably – the timing cover seal (item 34) as there is probably a leakage from that seal. I would consider changing this according to the tread on the Club Triumph Forum: http://club.triumph.org.uk/cgi-bin/forum10/Blah.pl?m-1366055391/s-new/#num7 .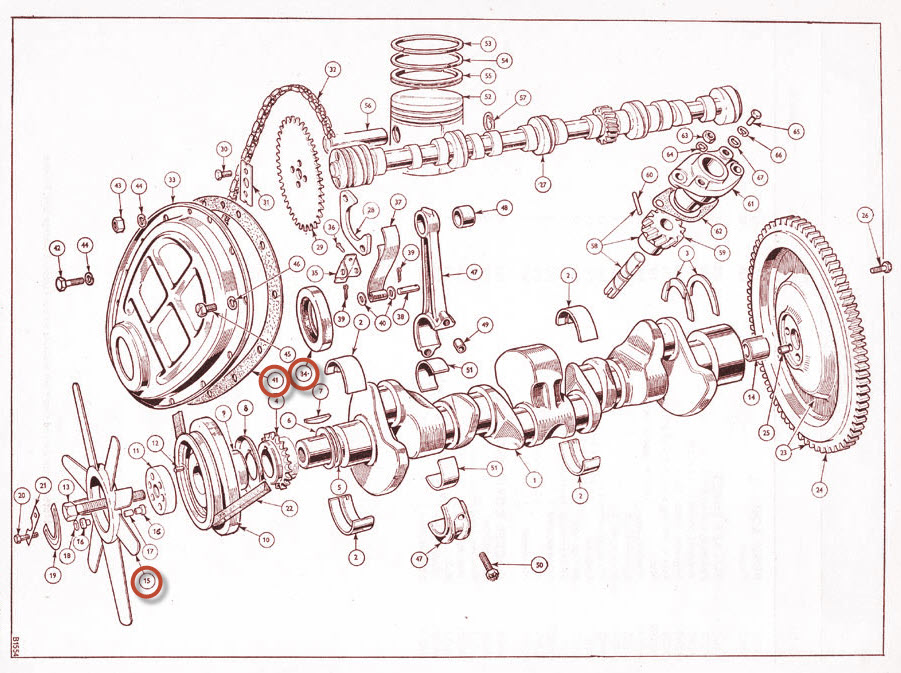 Cycle- and ski-rack
I'm using my bike pretty much and like going for a ride when the weather is good. This collides a bit with the use of the Vitesse – as topless driving and biking is both very nice on sunny days. I then come up with a solution to fit a cycle-rack to the luggage boot rack that can be fitted to the rear. I got the bike-rack from a local dealer – Biltema – and further used fittings that is designed for the luggage boot rack to fasten the cycle-rack to the lower part of the boot lid. These are available with Rimmer: http://www.rimmerbros.co.uk/Item--i-GRID009527 . The upper part of the cycle-rack was fitted with regular hose clips (!). The pictures shows the details….
As I also like to go skiing and snowboarding I extended the cycle-rack solution to also include a ski-rack. I definitely do not use the Vitesse during winter due to all the salt used on our roads. However, just a two hour drive from Bergen there is a summer ski-center on a glacier – Folgefonna – which where we regularly go skiing during sunny summer days. So no, I can co there with our skis well (!) fitted on the Vitesse.
To be honest: I do not think the above solutions are pretty much road safe – but used carefully now-and-then it will work out J
Vitesse spear-wheel
My Vitesse is original a Vitesse 6 but has been upgraded with various 2l parts including brake calipers of the type 16B. These calipers are bigger than the original ones and the original wheels do not fit due to different slots. The original one differs in the slots between center and rim. Vitesse 6 were fitted with large slots while Vitesse Mk1 and Mk2 where fitted with narrow slots. As Viteese's are pretty rare in Norway, I was lucky to get hold of a narrow slot wheel. This was professionally sandblasted and painted silver/grey – which pretends to be the original color for Vitesse 6. A new tire was fitted – and I'm ready to puncture J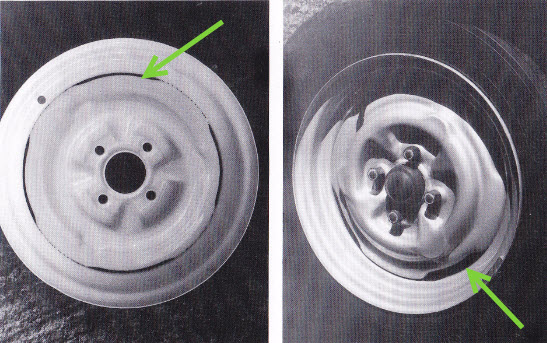 Left: Vitesse Mk1 and Mk2 with narrow slots. Right: Vitesse 6 and Heralds with wider slots
| | |
| --- | --- |
| Placed in the boot | ....... and nicely covered :-) |
CD/Radio with USB and 3.5 jack
The car CD/radio fitted was Kenlowe with USB and 3.5 jack with a remote control. To get it out of sight I mounted it underneath the dash and as far forward it was possible to fit it. The cable from the 3.5 jack was put under the gear tunnel carpet where it is fitted to my smartphone with all music I want from Spotify/Wimp. I used some Velcro underneath the remote control so it could easily be fitted to the carpet, and when not in use it can be removed. Even though the stereo is hard to reach and out of sigth, it is easily controlled by the remote unit.
| | | |
| --- | --- | --- |
| Smartphone, remote control and CD/Radio with 3.5 jack | | |