........ SMOOTH ON ALL SIX

_______________________________________________________________________________________________

FRIDTJOF DEN FRØKNE OSLO 2006 ToN 2006 ToN 2007 ToN 2008 BOURNEMOUTH SIRDALEN 2008

Annual event - Triumphs of Norway; ToN-2007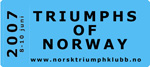 Every year - early June- the Triumph Club of Norway arrange a happening where the (Norwegian) Triumph enthusiasts can meet, drink and discuss and chat about their primary interest.....
2007 was my second year I attended, and the event took place at Ala Camping, Vang in Valdres the weekend June, 8-10.
The number of attendees was not as many as last year, however the weekend can also this year be summarized as: Excellent - the people, the party, the cars, the weather - yes, simply splendid ...... J
Saturday we went for a drive from the camping to Årdalstangen. Just outside Årdalstangen we met people from the British Car Club of Jotunheimen, and joined them to line up the cars at the annual marked - all together 20-25 british classic cars. I also met another Vitesse - see pics below.
We then drove from Årdalstangen to Turtagrø by the road called Tindevegen - a toll road only open during summertime due to very much snow. In fact it had just opened when we took the ride.
After an ice-cream and a chat at Turtagrø we drove toward Lærdal via the ferry between Manheller and Fodnes. From Lærdal we drove back to the camping via a couple of historic routes. All together a journey of around 400 km, and a map of the route is shown here.
On the way back to Bergen we drove Aurlandsvegen - famous for much snow even during summertime, see pics below. A map of the drive from my home to the event and back home is available here.
Pictures from Ton 2007
| | | |
| --- | --- | --- |
| Just before departure from Bergen | On the road - two ladies from behind | Ørnulf's Stag is inspection by enthusiasts and specialists |
| 2 am - still daylight (!) | Almost frozen lake in the background...... | On the way to Turtagrø |
| Car-show in Årdal ...... | with 2 Vitesse's | Turtagrø |
| | | |
| --- | --- | --- |
| Turtagrø | Turtagrø | On the way back to Bergen - Aurlandsvegen |
| Aurlandsvegen: Huge bank of snow ..... | ...... indeed ! | June 10'th - not January :-) |
| | | |
| --- | --- | --- |
| The viewpoint on Aurlandsvegen | View of Aurlandsfjorden | Soon back home .....! |