........ SMOOTH ON ALL SIX

_______________________________________________________________________________________________

FRIDTJOF DEN FRØKNE OSLO 2006 ToN 2006 ToN 2007 ToN 2008 BOURNEMOUTH SIRDALEN 2008

Annual event - Triumphs of Norway; ToN-2008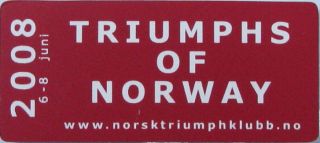 Every year - early June- the Triumph Club of Norway arrange a happening where the (Norwegian) Triumph enthusiasts can meet, drink and discuss and chat about their primary interest.....
2008 was my third year I attended, and the event took place at Buøy Camping, Dalen in Telemark the weekend June, 6-9.
The number of attendees was more tham last year, and the weekend can again be summarized as: Excellent - the people, the party, the cars, the weather - yes, simply splendid ...... . There were Triumphs from the Oslo region, Stavanger region and Bergen region. The Bergen region got 2 awards to bring back home: Ørnulfs Stag was "Best in show" while Steeves TR8 got the award for "most stops" during the ride from Bergen to Dalen.
Saturday we went for a drive from Buøy Camping, Dalen to Fyresdal along Fyresvatn toward Tjønnefoss and Treungen where we had lunch. Then along Telemarksvegen and Nissedal and back to the camping. All together a journey of around 200 km, and a map of the route is shown here.
The route we drove from Bergen to Dalen can be seen here
Pictures from Ton 2008

Lining up in front of Dalen Hotel
| | | |
| --- | --- | --- |
| Just before departure from Bergen - Ørnulfs Stag | Steeves TR8 | Three nice asses ....... |
| ..... and the fronts! | | Børge showed up - Vitesse Mk2. Just to see us well on the road .......! |
| Lining up for the ferry at Gjermundshamn | Arriving Løvfalsstrand | A nice and huge waterfall on the way ..... |
| | | |
| --- | --- | --- |
| .... a quite usual situation toward Dalen :-) | The tunnel was closed - had to wait for an hour | At Buøy camping, Dalen - saturday morning |
| At Buøy camping, Dalen | At Buøy camping, Dalen - a very nice Fiat 124 Spider showed up :-) | At Buøy camping, Dalen |
| | | |
| --- | --- | --- |
| At Buøy camping, Dalen | Lining up for the Saturdays ride | First stop on the ride |
| | | |
| --- | --- | --- |
| First stop on the ride | Stop to see the magnificent view - Fyresvatn | Fyresvatn |
| | Lining up at Treungen for lunch | Outside Dalen hotel |
| Ørnulfs shining bonnet | | |
| | | |
| --- | --- | --- |
| | Knut Skoglunds Swallow Doretti - see www.doretti.no | Another red Triumph on the way back home |
| | | |