........ SMOOTH ON ALL SIX

_______________________________________________________________________________________________

FRIDTJOF DEN FRØKNE OSLO 2006 ToN 2006 ToN 2007 ToN 2008 BOURNEMOUTH SIRDALEN 2008

Annual event - Triumphs of Norway; ToN-2010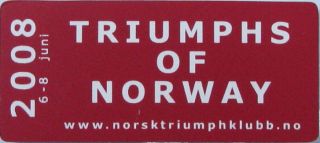 Every year - early June- the Triumph Club of Norway arrange a happening where the (Norwegian) Triumph enthusiasts can meet, drink and discuss and chat about their primary interest.....
2010 was my fourth year, and the event took place at Torpomoen, Ål in Hallingsal the weekend June, 4-6.
The number of attendees was more tham last year, and the weekend can again be summarized as: Excellent - the people, the party, the cars, the weather - yes, simply splendid ...... . There were Triumphs from the Oslo region, Stavanger region and Bergen region. The Bergen region got 2 awards to bring back home: Ørnulfs Stag was "Best in show" while Steeves TR8 got the award for "most stops" during the ride from Bergen to Dalen.
Saturday we went for a drive from Buøy Camping, Dalen to Fyresdal along Fyresvatn toward Tjønnefoss and Treungen where we had lunch. Then along Telemarksvegen and Nissedal and back to the camping. All together a journey of around 200 km, and a map of the route is shown here.
The route we drove from Bergen to Dalen can be seen here